15 Best Green Tea Brands to Drink in 2021 – Green Tea
15 BEST GREEN TEAS FOR AN EVERYDAY ANTIOXIDANT BOOST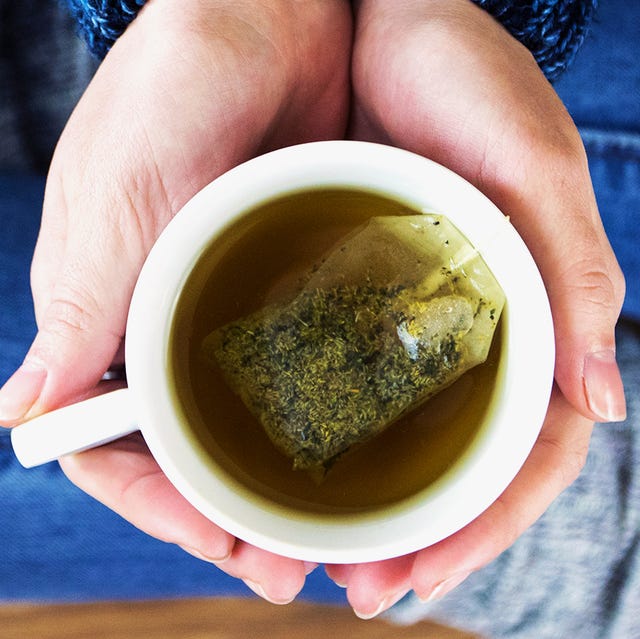 We love sipping green tea year-round, both chilled or served piping hot. During the winter months, starting our day with a hot cup of green tea helps ensure we're beginning our routine on a healthy note. Plus, if you're new to green tea, there are tons of varieties and flavors to choose from to find your best match. Loaded with powerful antioxidants, essential nutrients, and anti-inflammatory polyphenols, green tea has quite an impressive list of potent health benefits.
Lower in caffeine than black tea, green tea has a fresh, light flavor and is verdant green in color. After plenty of taste-testing, we decided on the 15 brands below as the most highly rated, sustainably sourced, and best-tasting green tea varieties to help you reach your happy place.
1
Tazo Dessert Delights Tea Glazed Lemon Loaf Herbal Tea
After recently going viral on TikTok, this Glazed Lemon Loaf Herbal Tea from Tazo has literally been selling like hot cakes. With tangy notes of lemon and comforting vanilla, we can see why this green rooibos tea from the brand is worth all the hype. Get your hands on it here while you still can!
2
Yogi Pure Green Tea (6-Pack)
Whether you're replacing your afternoon cup of coffee or are simply looking for a straightforward and flavorful green tea, this Pure Green variety from Yogi is highly rated and beloved by both tea-drinking newbies and experts alike.
Certified USDA Organic and Non-GMO-Project-Verified, Yogi's Pure Green Tea is made from a blend of leaves sourced from India, China, and Sri Lanka.
The taste is light, smooth, and refreshing — making it an ideal choice for a morning cup of tea or a healthy afternoon pick-me-up.
3
The People's Green Tea by The Republic of Tea
Made with green tea leaves verified by the Non-GMO Project, and packaged in natural, unbleached satchels, this People's Green Tea from The Republic of Tea is a sustainable and delicious option.
Milder in taste than some other options on this list, we'd recommend this green tea for beginners or for those who love to add ingredients like a squeeze of lemon to tea.
4
Harney & Sons Citron Green Tea
This light and citrusy green tea is perfect for those trying green tea for the first time or who are looking for a clean, less intense green tea to start their day.
With an ingredient list consisting of green teas, marigold petals, and natural orange oil, Harney & Sons Citron Green Tea is a beautifully aromatic yet mellow green tea that turns an everyday cup of tea into a sensory ritual.
5
Bigelow Classic Green Tea (6-Pack)
Another tasty and top-rated green tea brand, Bigelow Classic Green Tea has a delicate and very subtle earthy flavor. With its mellow green tea flavor and soothing aroma, we love sipping Bigelow in the morning for a healthy antioxidant boost.
6
Traditional Medicinals Organic Green Tea Ginger (6-Pack)
Spicy ginger and earthy green tea play quite nicely together in this organic blend from Traditional Medicinals. From anti-inflammatory properties to assisting in nausea and digestion, ginger root has a long list of health benefits.
7
Numi Organic Ginger Lemon Decaf Green Tea
Made with a fragrant blend of ginger, lemongrass, decaffeinated green tea, lemon verbena, and lemon myrtle, Numi's Ginger Lemon is bright and citrusy. A healthy green tea to sip morning, noon, or night, we recommend chilling this tea and enjoying it during the warmer months.
8
Rishi Jade Cloud Organic Green Tea
If you're not already enticed by the name of this sweet and lush green tea, we think you'll be hooked after your first sip. This tea gets its name from the ancient Chinese green tea known as wulu, or "Jade Cloud."
This tea has a full and grassy flavor, a deep aroma, and a rich body. Best for more seasoned green tea lovers who are accustomed to earthy and potent brews, Jade Cloud is a dreamy and savory green tea that we think tastes best first thing in the morning.
9
Tazo Green Tea China Green Tips
These spring-harvested green tea tips are sourced from China and yield a rich, earthy flavor with slightly floral notes. This versatile tea works beautifully hot or iced, making it a great choice to keep in the cupboard year-round.
10
Smith Teamaker No. 96 Jasmine Silver Tip Green Tea
Jasmine green tea is green tea that has been flavored with jasmine flowers, and it's another great choice for those just starting to drink green tea or who are looking for a flavorful and fragrant blend.
This Jasmine Silver Tip tea is grown in the Fujian Province of China, and it goes through a lengthy production process that revolves around jasmine flowers' blooming season. Clean, refreshing, and with a delicate yet mesmerizing floral aroma, Smith's No. 96 jasmine green variety makes for an uplifting cup of afternoon tea.
11
Lipton Decaffeinated Green Tea Bags (6-Pack)
Made without additives, preservatives, or artificial coloring, these individually wrapped decaffeinated green tea bags from Lipton are deliciously refreshing served hot or over ice. For making big batches of hot or iced tea year-round, Lipton Green Tea is our go-to.
12
VAHDAM Himalayan Green Tea Leaves
If loose-leaf green tea is more your style, we wholeheartedly recommend this Himalayan Green Tea from VAHDAM. A nice middle ground between super vegetal sencha green tea and more assertive gunpowder green tea, this low-caffeine option makes a great option for first-time green tea drinkers.
13
Teavana Jade Citrus Mint Green Tea (4-Pack)
For mint tea lovers, we recommend Teavana's refreshing Jade Ctirus Mint Green Tea. Made with cooling spearmint and citrusy lemongrass, this is the ultimate midafternoon pick-me-up that tastes as delicious over ice as it does served steaming hot.
14
Uncle Lee's Organic Green Tea
Sourced from from the mountains of the Fujian Province of China, Uncle Lee's Organic Green Tea is grown without pesticides and with careful attention to preserving its natural surrounding environment.
Most reviewers agree this green tea has a mild, pleasant, and smooth taste, making it a great place to start if you're a fledging green tea drinker.
15
The Republic of Tea Detox Green Supergreen Tea
If you're resetting your health and wellness goals in 2021, you'll want to add this Detox Green Supergeen Tea from The Republic of Tea into your daily regimen, stat. A blend of Japanese Matcha, green tea, chlorella, green apple, and mint, this green tea has both brain-boosting and detoxifying ingredients.
Tetley Green Tea Immune with Added Vitamin C, Lemon and Honey, 100 Tea Bags Image By https://www.tetley.in/ About this item Green tea now comes with the Immunity power of Vitamin C Rich in Anti-Oxidants: Provides … Read more